Its raunchy, sensuous & seductive & will etch its name as one of the most chucklesome desi dance number ever.
Preview saw the presence of Vikas Verma, Rehan Shah, Flora Saini, Aartii Naagpal, & Many more.
Composer: Siddharth Kasyap, Lyrics: Shakeel Azmi, Singer: Raja Hasan, Sakshi Holkar, featuring: Shwetaa Khanduri, Shahwar Ali, Rajesh Sharma, Zakir Hussain, Kurush Deboo, GK Desai, Dj Reena Barot, Choreographer: Ruel Dausan Varindani, Video Director: Aziz Zee, Produced by SK Music Works.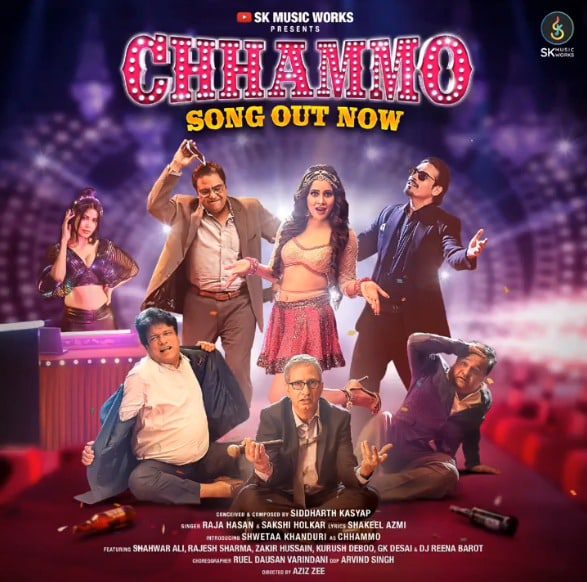 SK Music Works vision to challenge & create new benchmarks in the Indian Music Fraternity is inching closer with every launch. SK Music Works is bringing in a revolution of sorts by releasing an independent desi dance number with an ensemble star cast starring ace actors who have carved a niche & earned millions of fan base on pure talent & not just by featuring in some box office hits or spooky controversial stories & the end result is the surprise gift for the audiences with their stellar performance in "Chhammo".
COO, Sanober Herekar says "Everyone at SK Music Works breathes, drinks, eats, sleeps & lives music 24X7. Using the best & most advanced technology coupled with an innovative, clutter-breaking yet fascinatingly captivating music, we are committed to bring the most sensational musical experience for its fans worldwide. At SK Music Works, we treat & execute every musical project.
Introducing Shwetaa Khanduri as "Chhammo", she looks gorgeous as ever & seems to have outdone not just every entertainer but herself too with her insane dance moves and to set the screens on fire with her electrifying performance.
The colossal scale of "Chhammo" is triggered with its unique concept itself that reminds us of a mega film desi dance number set in the backdrop of a glittering fashion sequence turning into a thrilling entertaining tinsel town with the likes of Shahwar Ali, Rajesh Sharma, Zakir Hussain, Kurush Deboo, GK Desai grooving along with the sultry & scorchingly sizzling Shwetaa Khanduri. Powered with the melodious voice of Sakshi Holkar & ever enchanting Raja Hasan coupled with crafty & artful lyrics of Shakeel Azmi all perfectly simmered into an enduring & everlasting composition of Siddharth Kasyap & majestically shot by ace Director Aziz Zee gives the promise of a never seen before experience to music fans across the globe.
SK MUSIC Works breaks the usual & conventional low budget style of creating independent music with enormously bunyanesque & herculean sets, lavish costumes, extravagant shoots to bring unparalleled grandeur in the music video of "Chhammo".
Maverick Composer & the brain behind SK MUSIC WORKS Siddharth Kasyap says "Chhammo is a very unique song, not just in terms of our treatment of its music but more importantly in terms of what all has gone into creating the stunning video of the song. Though Chhammo is a desi dance number, probably for the first time ever, we have very creatively used Shayari in the desi dance number adroitly & skilfully written by super talented Shakeel Azmi. There is a lot of hoopla & masti in both the lyrics & the tune of the song. Masterly skilled singers Raja Hasan & Sakshi Holkar have done an outstanding job & the kind of energy they have put in, it's unreal. I heard Sakshi for the first time a couple of years back & had decided to pack the power & punch in her voice in a deserving composition like "Chhammo" then only. Moreover, there's so much work & research that has been done on casting the most apt artists for the video, probably like a feature film. After listening to the entire concept & the project, every artist we approached shredded all the apprehensions & danced, acted & performed during the shoot with all the madness, energy & commitment. We at SK Music Works will continue to set higher standards for Independent & original music without compromising on any front to give exceptional & unprecedented experience for our audiences. Our zero compromise strategy at SK MUSIC Works for every project is a bold move & we have a long term vision of reforming the way independent music is managed"
Adds further Siddharth Kasyap "Ace Director Aziz Zee has nailed the concept & story line of the amazing video of "Chhammo". I am sure everyone watching the music video while listening to the song will have the same feel as a song from a bollywood feature film. I thank the entire team of SK Music Works & Chhammo who have worked tirelessly to put together this music project.
Director of the music video, Aziz Zee says "Celebrity Choreographer Ruel Dusan Virandani has earlier choreographed songs like Galti Se Mistake & Jugnu & those songs became famous for their hook steps. Now that he has choreographed Chhammo, we anticipate the hook step to be famous amongst the masses. We wanted a celebrity choreographer to do this song so we approached Ruel and the minute he heard the song he agreed. Ruel and I have been old friends so working with him was a delight. He jumped when he heard the song and was immediately on board" Aziz Zee says "I have done desi dance number for the first time, it was a very different and an amazing experience. Had a lot of fun with the whole team doing this song, everyone present on the set had a great time. It didn't feel like I was shooting for a song, it felt more like shooting for a big budget film. Siddharth Kasyap has done an outstanding job with the composition so even the video had to match his stature of music"
Accomplished Singer Raja Hasan says, "It was a great & a completely new learning experience working with SK Music Works & Siddharth Kasyap sir. I am amazed with the unprecedented dedication & attention to details which Siddharth Kasyap Sir & his entire team takes to every project. And above all, I must mention what sets Siddharth Kasyap ji apart from anyone else is the fact that not only he is a great composer but a greater human being. Working with him is an honour. Chhammo is definitely a unique desi dance number but more importantly, the masti-mazaa-lutf aur pagalpan in the song is crazy. Though I know most of the actors featured in the song, I could never imagine the kind of energy & mayhem they can create in a music video like what I saw in "Chhammo". I would like to make a special mention for the director Aziz Zee who has created this magic with his marvellous direction for the music video. I first met Aziz Zee about 15 years back on a shoot in Dubai & since then, I was nurturing a dream to work with him which was first fulfilled in "Ishq ki Mitti" but the "Chhammo" project with him has taken my dream beyond comprehension. I wish & pray with all my heart that I get more opportunities to work with geniuses like Siddharth Kasyap Sir, Aziz Zee & the incredible team of SK Music Works in future".
A very young, talented & power packed singer Sakshi Holkar says "Working with Siddharth Kasyap sir will remain an unforgettable chapter in my life. The positivity, zeal & absolute ingenuity he can bring out of every artist is mind blowing. I can say with complete sincerity that he has brought the best out of me, probably beyond my imagination. Thank you Siddharth Sir for this enduring & distinguished opportunity in my career".
Acclaimed actor Zakir Hussain says "Working with Siddharth Kasyap ji changed my perception about independent music projects completely. "Chhammo" is a super peppy, masterly composed & magnanimously shot music video. Stimulating lyricist Shakeel Azmi has been known to me for a long time & I have been in love with his distinctively quirky & unique style of writing & he has done complete justice to Siddharth Kasyap's vision & the composition. The experience at the shooting took me by surprise. The meticulous planning to details, the colossal sets, the exorbitant costumes, proficient crew & everything else was nothing short of a big budget feature film level project. Though this was my first experience working on a desi dance number for an independent music label, it left me with a WOW feel at the end of the shoot. I would like to thank Siddharth ji personally for all the royal hospitality & everything else & wish the entire team of SK Music Works loads of success, accolades & love from the audiences after the release of "Chhammo".
Charming & talented actor Shahwar Ali says "First of all, I feel proud & happy of Siddharth Kasyap ji for being able to take SK Music Works & independent music to this level & am sure this is just a beginning. Coming from the same hometown, I look upto him to take Music industry a notch higher & take pride in the fact that SK MUSIC WORKS has disrupted all the regular norms of conventional independent music to redefine this music business in such a short span of time. Though I have done a lot of work in the entertainment business in the past, "Chhammo" is different. I haven't yet been a part of an over-the-odds project of this kind of madness & scale which is equally classy & massy. I am confident the engagement & connection it will create with the audiences from the first minute of its release will be a talking point in the music industry for a long time. And Aziz Zee, whose work I have been admiring for almost two decades now, with his quintessential style of direction has taken "Chhammo" to a level which shall compel the entire industry to meet the new standards set by him. Though we have done so much work together in the past, "Chhammo" has created memories to last for a lifetime. What's uniquely amazing & disruptive about "Chhammo" is its concept of the entire song, as conceptualised & executed by Aziz Zee & the entire SK Music Works team. As the video starts, it looks like you are watching a very high-class, stylish & classy kind of fashion show & how gradually & magically it turns into a desi dance number. It's actually a kind of a feature film concept. Get ready to experience it soon."
Kurush Deboo says "All eyes are set on 22nd June, 2022 on SK Music Works youtube channel, for the global launch of a unique desi dance number titled "Chhammo", all set to storm the music scene. An outstanding song which will provoke & bring you to stage even the non-dancers to dance. Conceived & composed by the maestro Siddharth Kasyap ji, directed by Aziz Zee who has been directing for nearly two decades & has many famous music videos & feature films to his fame but I am sure, like me "Chhammo" is special to him also. He has casted me as a "BOSS" character in Chhammo & I just loved every second of shooting with him & his entire team. Sung by one of my favourite singers Raja Hasan & Sakshi Holkar, lyrics by one of the industry's geniuses Shakeel Azmi ji, I can't thank enough Siddharth Kasyap ji & Aziz Zee for giving me this opportunity in a very highly anticipated music video. Also, working alongside such talented & senior artists like Rajesh Sharma, Zakir Hussain, Shahwar Ali, GK Desai, Shwetaa Khanduri & many more was a humbling & great learning experience. You can imagine the "Fun Quotient" level during the shoot with the fact that even when we didn't have our shot, we all were dancing behind the camera. I am sure this song will become the dancing, wedding & every festival anthem for 2022 and coming years. The minute I stepped into the set for the shoot, I fell in love with it & I can't get it out of my mind even now though the shoot's over. It was my first working experience with SK Music Works & the royalty with which everyone was treated during the entire shoot was worth a King's ransom. Serious level of professionalism at work combined with incredible fun moments for a lifetime is all I take back after the shoot. Wish I get to work with Siddharth Kasyap ji & SK Music Works in future too"
Stimulating & distinguished lyricist Shakeel Azmi says "It is very rare that I am approached to write & create lyrics for a desi dance number. I have worked with Siddharth Kasyap ji in the past & am happy he expressed his conviction in me & my ability to write lyrics for a desi dance number. Siddharth Kasyap ji sees beyond the usual & ordinary & has a very different creative take on every project he undertakes. He insisted on writing a desi dance number. His "Chhammo" project tested me to the maximal limits. "Chhammo's" lyrics are raunchy, artistic, sensuous, energetic, high octane, naughty, luxurious & yet seriously poetic & epicurean but nowhere near being vulgar & indecent. In my opinion, out of not just all the desi dance number but amongst all the songs I have written lyrics for in my life, "Chhammo" is one of my best work ever. The concept is simply awesome & this style of writing will lend a completely new & novelty factor to the song. It feels liberating to write something that compels you to pen an out of the box project like "Chhammo". And to top it all, the beautifully shot video coupled with an unimaginable story & concept in the video makes me feel very special to be a part of a magnificent project like this. The feeling with which "CHHAMMO" leaves you at the end of the video is something the audiences have to see to believe it. And what an amazing ensemble casting for the video. Only seeing would be believing it. All I can say is that Siddharth Kasyap ji is an extraordinary combination of a marvellous creative person, fascinating composer, prodigious businessman and most importantly wonderfully beautiful human being. I must share with everyone that Siddharth Kasyap ji has been a music connoisseur since his college days, has been creating compositions since his college days & music runs in his blood. It's his unparalleled passion for music that now reflects in the kind of music that can rarely be matched in the industry. Let me share this with you & I am sure everyone will be pleasantly surprised to know that "Chhammo" was first written by me & shortlisted by the genius SK & then composed. The feeling overall is hair raising & I am keeping fingers crossed & can't wait to see the audience reaction to "Chhammo".
Very Popular artist Gk Sesai says "This is my first song with SK Music Works & Siddharth Kasyap ji. I enjoyed every moment of being a part of "Chhammo". When I heard Chhammo for the first time, I fell I'm love with the intensity, zest, liveliness, vivacity & the zippo mess in the composition, concept, lyrics & the video shoot. It has the potential to be an evergreen chartbuster. Aziz Zee can only pull-off a project of this size, scale & magnitude with so much of finesse & perfection. The fun part during the entire shoot of this gigantic project leaves me with unforgettable memories. Shakeel Azmi ji is a very senior lyricist & he has written an iconic song in line with his status as probably one of the best lyricists ever. Some people are born with some talent that runs in their blood, like the great Sachin Tendulkar was a born Cricketer, likewise Siddharth Kasyap ji is a gifted musician, music runs deep in his blood. He enjoys playing a lot of instruments and his knowledge & understanding of singing, music & the pulse of the audiences is mind-blowing. Is he a great musician first, or a great human being first or a successful industrialist first or a fantastic creative person first or an inspirational leader first or an amazing team player first is all debatable, but all are true facts about Siddharth Kasyap ji & wish him all the best to continue his revolutionary approach in the Music industry forward. Visionaries like him are rare, I wish him all the best for all future endeavours. It takes guts, conviction, passion, talent, pursuance & commitment to walk on the path he is walking on. Proud of you Siddharth ji & a billion prayers for you & you're an exciting journey ahead"
An Avant-Garde desi dance number, which is all set to rock as the next dancing anthem of 2022, 22nd June, 2022…isn't there something cosmically magical about the launch date numbers too. "CHHAMMO" is descending down…