Film Actor Sanjeev Poonam Mishra is very excited for his upcoming film 'Chilam Chowki – Yuge Yuge'.
Chilam Chowki – Yuge Yuge is a shortfilm in Hindi which is made by a Darbhanga based production company, Terabyte Studio Private Limited. The whole shoot for this film was done keeping in mind the preserved heritage, traditional values and rich culture of Darbhanga, Capital city of Mithila. Almost of the people involved in the making of this film are the native citizens of Darbhanga. The main aim of this short film is to guide and show today's generation the consequences and effects of Drug addiction and violence. Other than Sanjeev Mishra, Ravi Khandelwal and Dipesh Yaduvanshi has also played a very important role in this film.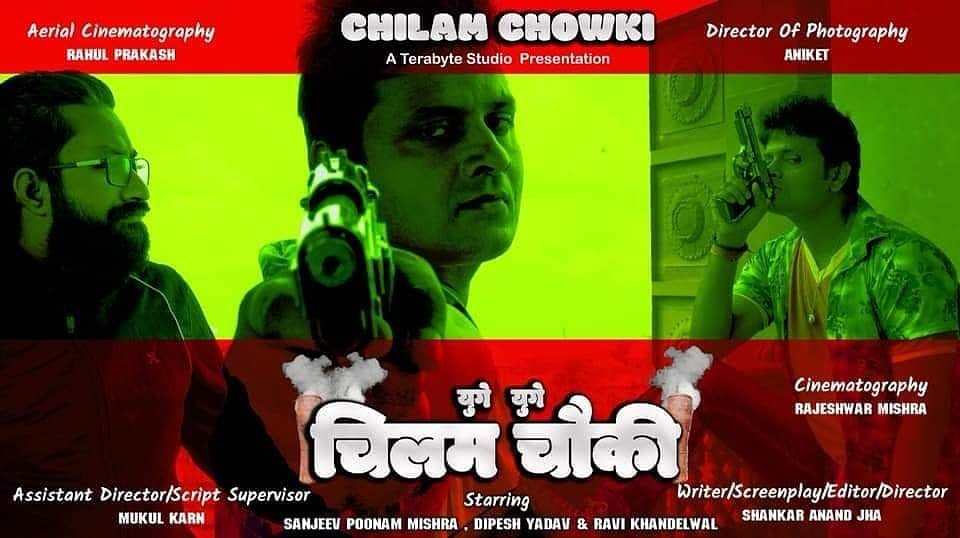 Sanjeev said,"We are expecting a lot from this film. If the films start being made in Mithilanchal, then we can provide economic stability to the people on a large scale. From this the rich culture of Mithila can get recognition on a global pace and also the artists of Mithila will not have to getaway from their home town. If the panoramic location of Mithilanchal is fully utilized, then this area can be developed as a tourism sector.There is no dearth of talent in Mithila, it needs to be refined". The main character of the film Sanjeev Poonam Mishra is a resident of Ramoli village of the local Benipur subdivision, whose journey has been very challenging.
Sanjeev has struggled in Dehli and then in Mumbai for a lot many days. Sanjeev shares that he developed his hobby for acting after viewing Nukkad Naatak presented during Lok-Utsav. After doing diploma from Bihar Art Theater, Sanjeev learned acting skills from IPTA. Film director Shankar Anand Jha said that if cinema gets the status of industry in Mithila region, then along with its artists, other industries related to it will be able to develop. Referring to the difficulties faced during the making of the film, he said that four attempts were made to make the film but the film could not be made due to personal problems of the local artists. Success came in fifth attempt. It is believed that this film made with a budget of around Rs 10 lakh will prove to be an inspiration to the people of Mithilanchal. The film trailer is releasing on 15th August.