20th November 2023, Mumbai: Sandeep Reddy Vanga's much-anticipated film, Animal, featuring a stellar cast including Ranbir Kapoor, Anil Kapoor, Rashmika Mandanna, Bobby Deol, and Triptii Dimri, is generating immense excitement among fans. The countdown to the film's release has begun, with the recent announcement of the trailer launch date.
Trailer of Ranbir Kapoor starrer Animal to Release on 23rd November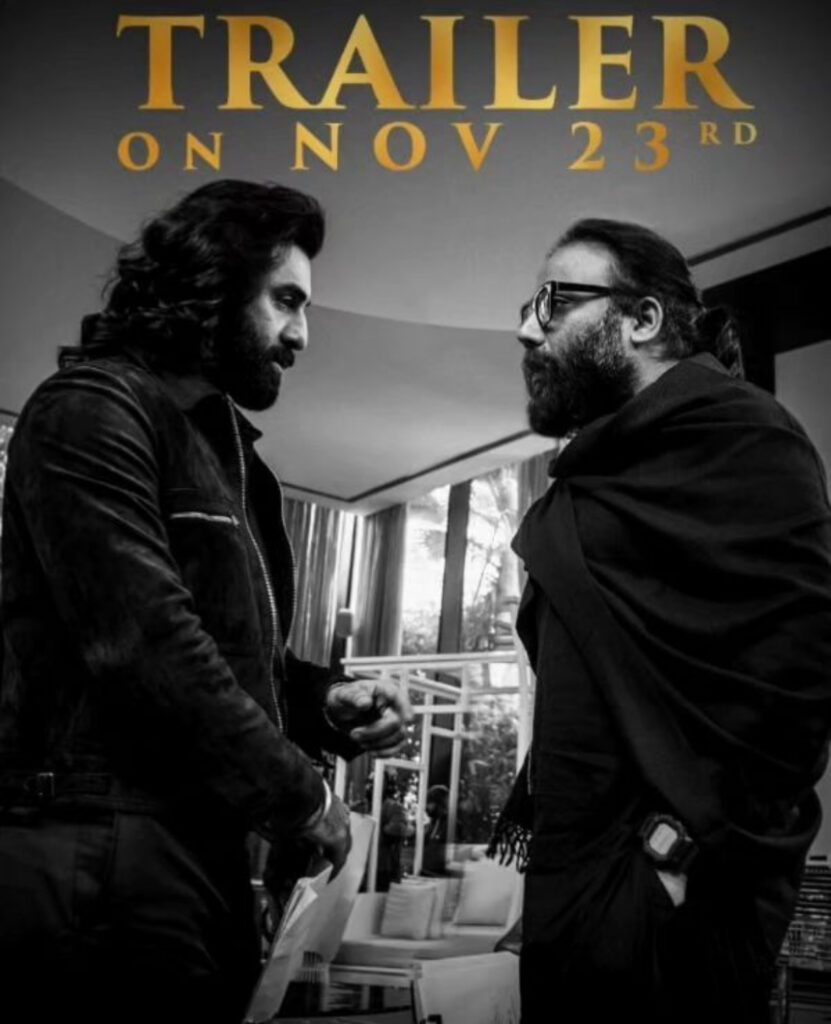 In a social media revelation that set hearts racing, Sandeep Reddy Vanga took to his Instagram account on Monday to disclose the long-awaited trailer release date. Accompanied by a captivating monochromatic picture featuring Vanga alongside Ranbir Kapoor, the post confirmed, "Trailer on Nov 23rd." Fans, who had been eagerly anticipating this announcement, now find themselves counting down the days until they can catch a glimpse of what promises to be an enthralling cinematic experience.
Teaser Unveiled on Ranbir Kapoor's Birthday
The initial teaser of Animal was unveiled on Ranbir Kapoor's birthday in September. Offering a brief yet intense peek into the gripping crime thriller, the teaser highlighted the complex dynamics of a father-son relationship. This sneak peek left fans intrigued and heightened their anticipation for the full-length trailer.
Inside the World of Animal
Animal marks the first collaboration between director Sandeep Reddy Vanga and Ranbir Kapoor, known for his versatile roles. Anil Kapoor takes on the role of Balbir Singh, Ranbir's father, adding another layer of depth to the narrative. Rashmika Mandanna steps into the character of Geetanjali, Ranbir's wife, promising to bring a unique perspective to the storyline.
Bobby Deol, in a menacing avatar, assumes the role of the formidable antagonist in Animal. The recent release of the film's song, "Arjan Vailly," received an overwhelming response from fans, adding to the excitement. Earlier, the songs "Hua Main," "Satranga," and "Papa Meri Jaan" had been unveiled, showcasing the diverse musical palette of the film.
Backing by Prominent Studios
Produced by Bhushan Kumar and Krishan Kumar's T-Series, Murad Khetani's Cine1 Studios, and Pranay Reddy Vanga's Bhadrakali Pictures, Animal is poised for a grand release on December 1, 2023. The collaboration of these influential production houses has undoubtedly contributed to the anticipation surrounding the film.
As the clock ticks down to the release of the Animal trailer on November 23, fans are gearing up for a cinematic spectacle that promises to be a riveting exploration of crime, family dynamics, and the clash of powerful characters. With an ensemble cast, a compelling storyline, and the proven track record of director Sandeep Reddy Vanga, Animal is undoubtedly shaping up to be one of the must-watch films of the year.