The third instalment of Excel Entertainment's most popular and eagerly awaited comedy franchise, Bollywood Fukrey, will finally be released after a lengthy wait on the auspicious day of Krishna Janmashtami on September 7, 2023. Fukrey 3 will undoubtedly raise the benchmark for the audience's ever-expanding obsession, as the movie itself has a history of laughter and chuckles.
Fukrey 3's producers kept the public interested in the film by providing frequent updates on its development. Now, they are here to make the widely anticipated news of the film's release date. The revelation of the release date is nothing less than a gift for the public, with everything set for its debut on September 7, 2023.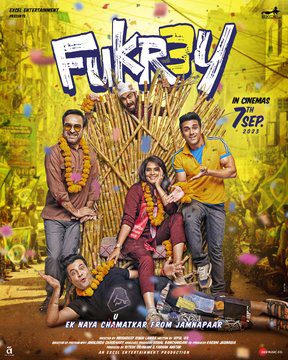 Pulkit Samrat, Varun Sharma, Richa Chadha, Manjot Singh, and Pankaj Tripathi are the stars of Fukrey 3. Mrighdeep Singh Lamba is the film's director, and Ritesh Sidhwani and Farhan Akhtar's Excel Entertainment is in charge of the production.
The Fukrey franchise has always been the definition of success, and the second instalment, Fukrey Returns, was a runaway triumph at the box office. As a result of the franchise's success, the Discovery Kids channel's "Fukrey Boyzzz" animated series was produced, allowing young viewers to experience the film's distinctive characters once more.
Fukrey has consistently received a tonne of love from the public ever since the publication of its first instalment in 2013, and it has only gone on to attain tremendous heights with its subsequent parts, making it one of the franchises that have been created by the public. While the franchise has gained popularity, particularly among young people, Delhi Connects the film has always been the film's heart and has received a great deal of public support. Choocha, Pandit Ji, Bholi Punjaban, and other beloved and enduring on-screen characters have all been introduced to audiences during the film's extraordinary journey thus far, and they will all be making a return in Fukrey 3.
Farhan Akhtar and Ritesh Sidhwani co-founded Excel Entertainment, which has provided the public with a number of hit movies including ZNMD, Dil Chahta Hai, Don, Don 2, and many more. The production company is currently preparing for the eagerly anticipated Jee Le Zaraa.